When Carl Spence began Spence Counseling Center in 1991, it was always his passion to see people find hope and healing through excellent Christian counseling which integrated Biblical principles into the therapy process. His vision succeeded and a mission was born: "to help hurting people find genuine healing." His son, Chuck Spence, joined him in 1999 and helped grow the practice to include more services such as gambling and addictions counseling. Soon, the number of therapists working with hurting people had increased which meant SCC's ability to help more people and reach more populations also increased. In addition to the main office in Omaha, Nebraska, SCC has added locations in Red Oak and Council Bluffs, Iowa, Fremont, Nebraska, and most recently, Lawrence, Kansas. SCC also has 17 Christian therapists and several office staff helping oversee that the mission of helping hurting people is carried out. 
Some of the many fun memories and highlights have included staff picnics, Christmas parties, and Saturday Serve, in which SCC would help with some of the great charities in the local area. Through the years, SCC has helped serve the Omaha metro area at Habitat for Humanity, All Play Sports, Open Door Mission, and many others. Spence Counseling Center has also been involved in sending staff to Colombia to teach pastors and therapists how to more effectively counsel their communities. As a faith-based health care organization, SCC has partnered with local churches throughout the Midwest to help provide counseling to the diverse congregations as well. Through the years, SCC has seen therapists come and go, baby showers, weddings, parties, special occasions (remember the total eclipse?), a pandemic, dinosaurs in the office, and most importantly, watching clients grow and heal.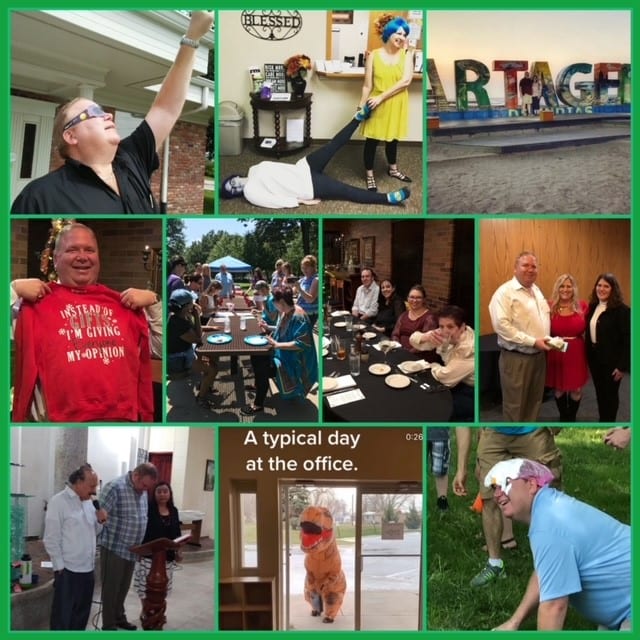 As SCC moves forward into the future, their dedication to the mission remains the same as does their commitment to Christ-centered integrative therapy.