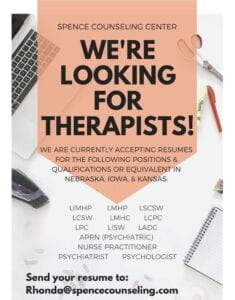 We are currently accepting resumes for the following positions & qualifications or equivalent license in Nebraska, Iowa, & Kansas:
| | |
| --- | --- |
| LMHP | LSCSW |
| LCSW | LMHC |
| LSCSW | LMHP |
| LSCSW | LMHC |
| LPC | LISW |
| LADC | PLMHP |
| PLADC | LMLP |
| APRN (Psychiatric) | Nurse Practitioner |
| Psychiatrist | Psychologist |
Those interested in joining our team, please email your resume to rhonda@spencecounseling.com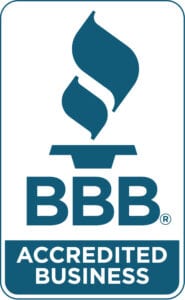 Accredited since: 08/2020
Faith Based Counseling
Wherever you may be in life's journey, we are committed to helping you find strength, knowledge, and the skills to break the patterns that damage relationships and cause emotional pain. It is our mission to help hurting people find genuine healing.
About Spence
Get In Touch
I highly recommend Spence Counseling. The counselors are fantastic and the owner (Chuck Spence) gives you his phone number and honestly wants you to call if you have an issue, personal or with a counselor, even after hours.
I've done counseling at several places and these guys are the best I've found. You'll get talk therapy at it's best here – they are down to earth, honest, emphatetic, and truthful.
I have been coming here for 2 years now and it's an amazing atmosphere. Even though they are a religious counseling center,  they don't make it everything, they are vary good with whatever you believe in and their main goal is to help.
I love this place. They helped me talk through a very difficult period in my life. They are good at placing you with the right counselor. My counselor decided on Cognitive-Based Therapy, and it really helped me. I still have to use it from time-to-time, depending on my stress level.
Warm, inviting place. Knowledgeable staff with a Christ-centered approach to therapy. Definitely worth checking out their website. Can't recommend them highly enough!
Hope. Healing. Restoration.
Interested in Spence Counseling? Contact us for more information.
Contact Us
follow us
Social Presence